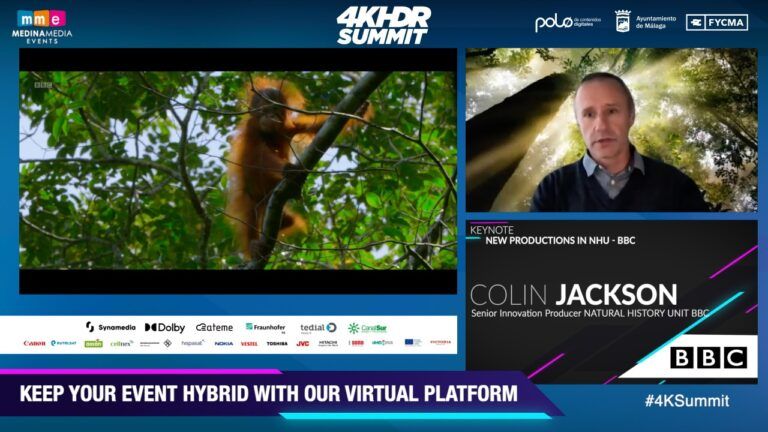 THE PRESENT AND FUTURE CHALLENGES OF UHD, PROTAGONISTS ON THE SECOND DAY OF THE 4KHDR SUMMIT
16/11/2021 | 4K International
---
The second of the five days of the seventh edition of the 4KHDR Summit (November 15-19) had a strong international character with presentations by the multinationals Secuoya Studios, Movistar+, Tedial, Dolby, Synamedia, Ateme, Fraunhofer, Vestel, and the BBC.
María Rua Aguete, Senior Research Director Media and Entertainment at Omdia, was in charge of opening the second day with her unprecedented report on the keys to the 4K, HDR, and 8K market globally.
"8K will grow very slowly, even slower than we thought last year. Even in Japan, the only country that has launched an 8K channel, there is no clear commercial lineup," Rua Aguete pointed out during her keynote. In the medium term, the situation is unlikely to change: by the end of 2025, only 9 million households will have an 8K TV.
Following Omdia's report, José Manuel González Pacheco, CEO of Secuoya Studios, shared his vision of Madrid Content City, an initiative that seeks to turn Madrid into a European hub for the creation of audiovisual content in UHD, and announced that by 2022 they plan to double their production, with "4-5 major series for large streaming platforms, and between 8 and 10 documentaries and documentary-series".
For Movistar+ COO Domingo Nieto pointed out the keys to the success of Movistar+, with its network reaching 80% of Spanish households, its 12 million TV users, and 50% of the pay-TV share, highlighting its alliances with the big names in the national and international media market, such as Netflix, Disney+ and DAZN.
Juián Fernández-Campón, CTO of Tedial, believes that there is a great demand for UHD: consumers want access to this content, so professionals are working to offer it. According to Fernández-Campón, the arrival of UHD to homes, either in the form of TVs or cell phones with recording capacity in this format, makes concepts such as 4K or 8K to be understood and shared among users.
Then came the turn of Jason Power, senior director of commercial partnerships and standard Dolby Europe. According to Power, the concepts that will mark the development of next-generation audio are immersive 3D sound, accessibility (with improved dialogue and audio description) and personalized experiences. Some of these keys have been tested both in Tokyo 2020, an event that was broadcast in some regions with audio with a mix in Dolby Atmos; or Eurovision, which also offered a test signal in this format thanks to the collaboration with the EBU.
Next, Nick Fielibert, CTO of Synamedia, conducted an interesting review on UHD video standards, highlighting that, although the transmission of 8K content could be done via HEVC, there are standards such as AV1 or VVC much more prepared and with better compression capabilities that will corner the market in the coming years.
Mickaël Raulet, CTO of Ateme, highlighted the efforts by the technology community to create codecs that transform as minimally as possible the visual quality and the intention of the author, especially in times when WCG or HDR stand as key to UHD.
Germany's Fraunhofer was represented by senior manager Adrian Murtaza and research associate Elena Burdiel. In his presentation, Murtaza stressed that "The different options of 4K, 8K and HDR are very confusing for consumers, so it is crucial to have a standard. The same when it comes to audio, the user needs to have basic interfaces to have customized audio."
Turkish manufacturer Vestel, through its Marketing Director, Baris Altinkaya, shared with 4KHDR Summit attendees that "We are focused on Ultra High Definition in Spain and delivering 4K and 8K TVs to the Spanish market."
The last turn of the second day of the 4KHDR Summit was for Colin Jackson, senior innovation producer of the Natural History Unit of BBC Studios, who emphasized the use of UHD technology for all productions. Regarding 8K technology, he confirmed that the vast majority of their formats are already captured natively in 7K and 8K. In this way, they can create final 4K content with advanced cinematographic techniques and greater detail, whether for image fidelity, post-production capabilities, or features such as reframing.
Jackson has presented the trailer for Seven Worlds, One Planet and has highlighted three defining elements that are marking his shootings: the use of drones, which allow reaching remote places with fast deployments, as well as approaching animals without intimidating them; stabilization systems, which favor spectacularity and cinematic sensation; or high-speed cameras in 4K.
Those registered for the 4K HDR Summit 2021 have been able to follow the sessions via streaming, as well as consult online demos, attend exclusive webinars, and network through video meetings with speakers and participants, through the virtual platform created by Medina Media Events. 
The sessions are broadcast continuously in the morning (from 10:00 to 14:30), afternoon (15:00 to 19:30), and evening (20:00 to 00:30), and as soon as they are broadcasted for the first time they are available to virtual attendees on Video on Demand (SVOD).
Multinationals, professionals, and speakers from countries such as the United States, Japan, Germany, Great Britain, France, Italy, Belgium, Turkey, Romania, India, Finland, Mexico, and Colombia will participate in the 4KHDR Summit.
The seventh edition of the 4K HDR Summit is sponsored by: Polo Nacional de Contenidos Digitales, Ayuntamiento de Málaga, Fycma, Synamedia, Dolby, Ateme, Fraunhofer, Tedial, Canal Sur Radio y Televisión, Canon, Eutelsat, Axión, Cellnex, Rohde & Schwarz, Hispasat, Nokia, Vestel, Toshiba, JVC, Hitachi, SONO, UHD Spain, Europa Creativa Media Andalucía and Victoria.
As a subscriber to our newsletter, enjoy an additional 20% discount on the price. Enter the code 4KS21 and click on the Validate button when you complete your Professional Registration.