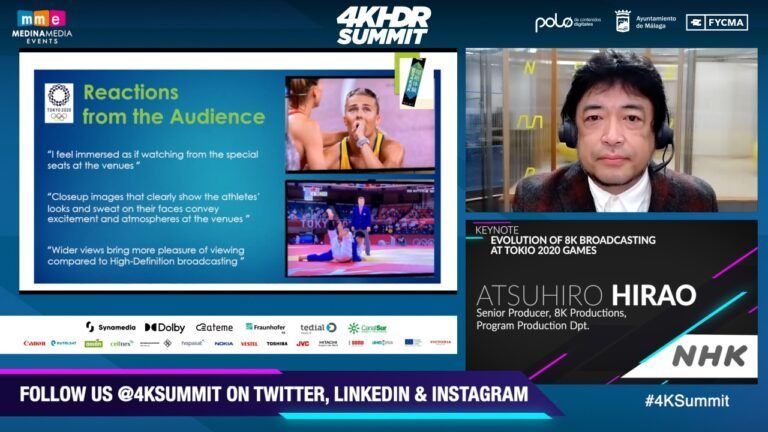 TOKYO 2020, 8K, 5G AND HDR: FEATURED ON THE THIRD DAY OF THE 4K HDR SUMMIT
17/11/2021 | 4K International
---
The third of the five days of the seventh edition of the 4KHDR Summit (November 15-19) featured sports experiences from OBS and NHK; unpublished images from NASA; pioneering projects with 5G from Rohde & Schwarz and Nokia; HDR with Canon and reflections on satellite deployment with Eutelsat and Hispasat and on interoperability with Cellnex.
OBS, the production company of the International Olympic Committee (IOC) has been in charge of opening the day with its Engineering Director, Isidoro Moreno, and its Broadcast Engineering Manager, Guillermo Jiménez, to explain details and advances in the production of the Tokyo 2020 Olympic and Paralympic Games, the biggest sporting event of this year and the first in history in which Ultra High Definition (UHD) has been the standard for television.
Guillermo Jimenez spoke about the launch of OBS Cloud, in collaboration with Alibaba Group. "With the increasing demand for more content in more formats, cloud services are becoming a key partner for broadcast organizations as they can better address media management workflows, from processing to editing to distribution operations," he says.
"The Tokyo Olympics will be remembered as the launching point for some major technology efforts: UHD, HDR, cloud services, AI, and 5G will drive a new level of content creation, distribution, and viewer experiences",  said Isidoro Moreno, Head of Engineering, Olympic Broadcasting Services.
Next, the head of 8K production at Tokyo 2020 for Japanese public broadcaster NHK, Atsuhiro Hirao, detailed the difficulties and discoveries they have had in producing the 300 hours they have generated in 8K.
"8K provided immersive experiences during Tokyo 2020. The downside was that the processing of these images took several days. For Paris, we are working to make some sports 8K as well," explained Hirao, senior producer at NHK during his virtual keynote at the 4KHDR Summit.
The U.S. space agency NASA was also present for another year at the 4KHDR Summit, with its head of Imaging, Carlos Fontanot, who showed the latest developments with the new cameras used on the Mars mission and on the International Space Station (ISS). "Onboard video will be recorded in 4K and downloaded as files, but the usual live video download will remain in HD," Fontanot said.
"Nasa TV is evolving from an over-the-air distribution model to an app-based distribution model to bring NASA events and UHD content to everyone across different platforms," reported Carlos Fontanot.
Cristiano Benzi, from Eutelsat, shared the map of the 36 channels currently broadcasting in 4K via satellite through Eutelsat, among which are four "mainstream" channels that are edited by major media groups for their own use and distributed mainly on their own platforms. These are Sky Sport 4K, Canal + 4K, Eleven Sports, and Rai 4K. "The challenges of UltraHD broadcasting are: exploiting the potential of UltraHD, the cost of transport, and the user/receiver park," said Benzi.
5G also took center stage on the third day of the 4KHDR Summit 2021. Germany's Rohde & Schwarz, represented by Thomas Loichinger, presented its Vista 5G project that plans to use 5G broadcast technology to generate new interaction processes with live events, whether music or sports. "According to our research, most consumers attending live events tend to use their smartphones at the event (76% music – 77% sports), with the most used functions being photography, messaging, filming and voice calls," Loichinger explained.
Finland's Nokia, represented by Pablo Perez, is also on board with 5G and has pointed out that the key point for them is to move the system to the cloud. "You can have a camera operator in Madrid, even at home, operating a virtual camera in a different city which is possible thanks to our control in an E2E process," said Perez.
For his part Aron Randhawa, from Canon, spoke about HDR and the features enabled by Canon's reference monitors, "they can help you fully understand the signal, whether you are in the film world, live monitoring or the broadcast industry."
Jorge Rodríguez, from Hispasat, and member of the Board of Directors of UHD Spain, reflected on the future of television via satellite, as well as the role that UHD will play in the development of this important business channel "since satellite reaches 100% of the territory and can transmit UHD content with high-quality standards", said Rodríguez, who is also optimistic about the arrival of UHD, despite the fact that the transition from SD to HD has not yet been completed in many regions.
For his part, Cellnex's José Manuel Sanz noted that when launching a new service there can be many different issues such as service detection, resolution, audio compatibility with the device, HDR and how the image is displayed, and finally in relation to streaming services and their playback. "The end result is that your service doesn't work as expected and the user is not happy at all. This is where we have a key role with our technical approach, with interoperability testing," Sanz reflected.
Finally, Peter Sykes of Japan's Sony, conveyed to 4KHDR Summit attendees his vision for UHD and HDR. "Pandemic has really changed the media and entertainment landscape, where the demand for high quality continues to increase. In addition, new Ultra HD services with HDR have emerged and new Ultra HD production tools continue to emerge," said Sykes. 
The third day of the 4KHDR Summit concluded with a posthumous tribute to Luis G. Calle, who was Vice President of Operations, News and Sports at Colombia's Caracol Television, a great promoter of new technologies in television in the United States and Latin America, and who passed away last December in Bogota.
Those registered for the 4K HDR Summit 2021 have been able to follow the sessions via streaming, as well as consult online demos, attend exclusive webinars, and network through video meetings with speakers and participants, through the virtual platform created by Medina Media Events. 
The sessions are broadcast continuously in the morning (from 10:00 to 14:30), afternoon (15:00 to 19:30), and evening (20:00 to 00:30), and as soon as they are broadcasted for the first time they are available to virtual attendees on Video on Demand (SVOD).
Multinationals, professionals, and speakers from countries such as the United States, Japan, Germany, Great Britain, France, Italy, Belgium, Turkey, Romania, India, Finland, Mexico, and Colombia will participate in the 4KHDR Summit.
The seventh edition of the 4K HDR Summit is sponsored by: Polo Nacional de Contenidos Digitales, Ayuntamiento de Málaga, Fycma, Synamedia, Dolby, Ateme, Fraunhofer, Tedial, Canal Sur Radio y Televisión, Canon, Eutelsat, Axión, Cellnex, Rohde & Schwarz, Hispasat, Nokia, Vestel, Toshiba, JVC, Hitachi, SONO, UHD Spain, Europa Creativa Media Andalucía and Victoria.
As a subscriber to our newsletter, enjoy an additional 20% discount on the price. Enter the code 4KS21 and click on the Validate button when you complete your Professional Registration.