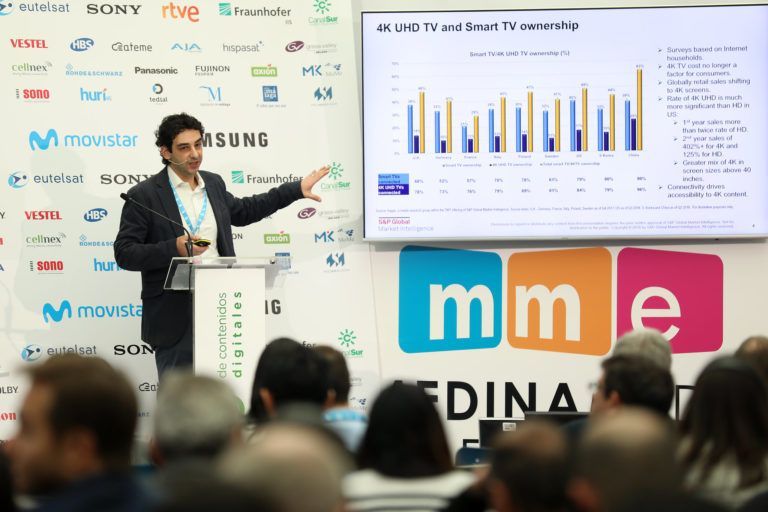 THE PHENOMENON OF SMARTPHONES WITH 4K CAMERAS, AT THE 4K-HDR SUMMIT
14/10/2019 | News 4K
---
The 4K phenomenon in smartphones, which every year come to market with more Ultra High Definition (UHD) cameras, will be analysed in the fifth edition of the 4K-HDR Summit, the main international event on this innovative technology, which is held from November 6 to 8 at the National Pole of Digital Content in Malaga.
The 4K-HDR Summit is the most relevant and exclusive event on Ultra High Definition (UHD) at international level, and it is attended by leaders in technology and content that are betting on the development of this new technology that offers consumers an image quality far superior to High Definition.
Mohammed Hamza, principal analyst of the American multinational S&P Global (Standard & Poor´s Global), has been commissioned by Medina Media Events, organizer of the event, to offer the 250 attendees this exclusive report that is revolutionizing the worldwide consumption of "smartphones".
S&P Global is the subsidiary of Standard & Poor´s, the risk rating agency that has one of the most important indexes of the New York Stock Exchange, which is dedicated to conducting analysis of companies and institutions, in order to guide investors and analyze the currents of the markets and the global economy.
Mohammed Hamza is a principal analyst at Kagan, a group within S&P Global Market Intelligence's TMT offering, and has already participated in the 2015 and 2018 editions of the 4K-HDR Summit. He specializes in operator strategy, business models, and OTT and TV EveryWhere initiatives.
In addition, he is part of the S&P Global team for Pay TV, Mobile Entertainment, Interactive Technologies and Video on Demand.
In this fifth edition of the 4K-UHD Summit, Mohammed Hamza will present an exclusive report on 4K and smartphones, which have Ultra High Definition (UHD) cameras and screens, and whose quality is increasingly valued by manufacturers and by younger consumers.
The 4K-HDR Summit offers a unique opportunity to attend keynotes, panel sessions, workshops and demos, for three days, in which the leading exponents of technology and content of Ultra High Definition share experiences and make first level networking 100 meters from one of the best beaches of the Costa del Sol in the second week of November.
To attend the 4K-HDR Summit and enjoy all that this world summit on 4K and HDR has to offer, just register here.
In addition, attendees to the 4K-HDR Summit will be able to get to know free demonstrations and workshops, expressing all their creative and professional possibilities and sharing in real time their impressions with other attendees. Register to visit the Demo Area and Workshops for free here.