THE MOST SPECTACULAR 8K IMAGES OF THE NASA AND BROADCASTS OF MAJOR EVENTS ON THE SECOND DAY OF THE 4K-HDR SUMMIT IN MÁLAGA
07/11/2019 | News 4K
---
Carlos Fontanot, Imagery Manager of NASA's International Space Station (ISS), has opened with great expectation from the audience the keynote of the second day of the international summit par excellence dedicated to 4K and 8K, showing to the audience incredible Ultra High Definition (UHD) images captured by NASA.
"We use the latest innovations and adapt everything to obtain higher quality videos, but we must do so with great care so as not to affect the pre-existing systems installed in the ISS. We have to be very careful when developing this new technology", says Fontanot.
"In 2024 we will return to the Moon with "Artemis". This is going to require new technologies that we are already testing from the ISS. We are developing a small space station that is going to orbit around the Moon, having the possibility of launching from it other vehicles that will go further, towards Mars. We are also testing with Virtual Reality cameras, which can be very useful in our lunar journey. In short, the ISS is being a great source of testing for our trip to the Moon", said Fontanot.
After Fontanot's keynote, Mickaël Raulet, Director of Research & Innovation of the French broadcast company ATEME, spoke about "state-of-the-art audio" as an improvement to High Dynamic Range (HDR) video services, applied to large events such as the Eurovision Song Contest, Rock in Rio or Roland Garros.
Raulet highlighted that: "NGA (Next Generation Audio) opens up endless possibilities for audio", which will allow consumers to experience audio content with optimised quality anywhere, achieving great personalisation and immersion.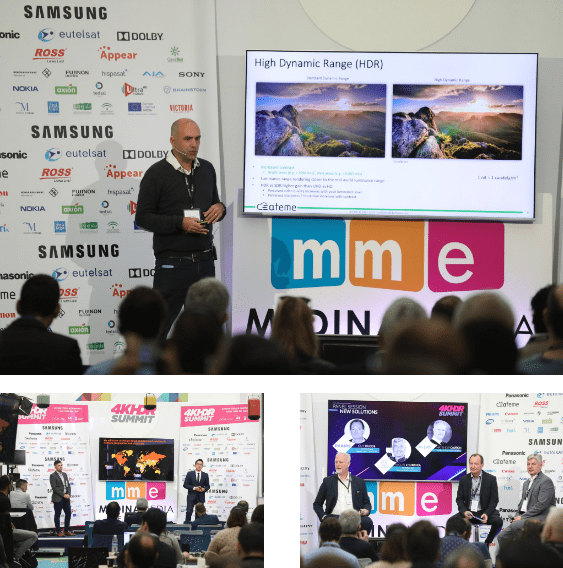 From Norway Appear, Sergio Renteria and Javier Reyes, have explained the challenges and learnings in the compression and transport of UHD signals.
"The 4K is generating a growing demand for compatibility with multiple codecs and transport standards", stressed Sergio and Javier in their keynote.
In their speech, Sergio Renteria and Javier Reyes talked about challenges and benefits for operators obtained from a diverse range of applications, such as the first transmission of a live event 8K, low latency links and high availability for sporting events.
Appear has also recently developed the X Platform for Spanish Radio Television (RTVE). RTVE has selected Appear's X Platform for HEVC HD 4:2:2 encoding and decoding on radio links between RTVE's headquarters in Prado del Rey, Torrespaña and Salón de Loterías.
With its unique channel density offering and the ability to combine encoding and decoding of multiple contribution formats in the same chassis, Appear's X Platform offers excellent low-latency video quality in a redundant architecture to ensure maximum availability.
The first panel of the 4K-HDR Summit was led by Guy Ducos, Philips Business Development Consultant (Netherlands); Matthew Causon, EMEA Business Manager of AJA Video Systems (USA); and Miguel Churruca, Marketing and Communications Director of Brainstorm, who discussed new solutions, formats and workflows for HDR, 4K and 8K.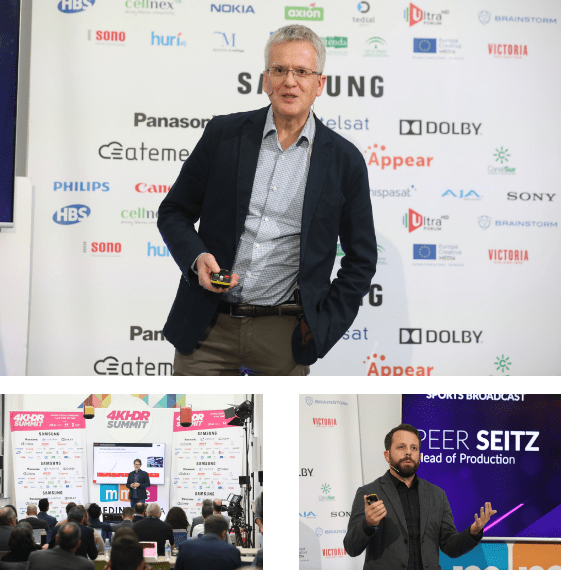 Peter Sykes, Strategic Technology Development Manager of Sony, who repeats as speaker of the 4K-HDR Summit, has participated in the second day of this international summit on 4K and 8K, explaining the workflows used in Sony for the creation and delivery of Ultra HD images with High Dynamic Range (HDR).
Sykes explained that Sony is the manufacturer with the highest number of cameras approved for Netflix. He also highlighted the company's development of a system to broadcast live on 4K-HDR and at the same time on SDR in a single production stream.
On the other hand, Emili Planas, Mediapro's CTO Operations Manager, spoke about the company's experience acquired during two and a half years of top-level UHD-HDR sports productions and the keys to obtaining spectacular HDR images, bearing in mind that for the moment the most important signal continues to be HD-SDR.
"From Mediapro we have decided to go directly to HDR production to learn and improve live production", said Planas during his keynote. "So far we've produced about 175 HDR football games, something never seen before in production".
Peer Seitz, head of production at Infront Productions (HBS) in Switzerland, has been in charge of closing the morning block of talks on the second day of the 4K-HDR Summit in Malaga.
Seitz presented the camera plans of different productions made by HBS for main sporting events. The planning of cameras for the broadcast of sporting events in 2019 has grown, currently employing a plan of 33 cameras to offer the best experience to consumers.
In addition, Seitz has presented the successful 5G connected camera configuration tests that took place at the 2019 BMW Berlin Marathon last September. This is the first time this configuration has been implemented in continental Europe, in a live 5G public network.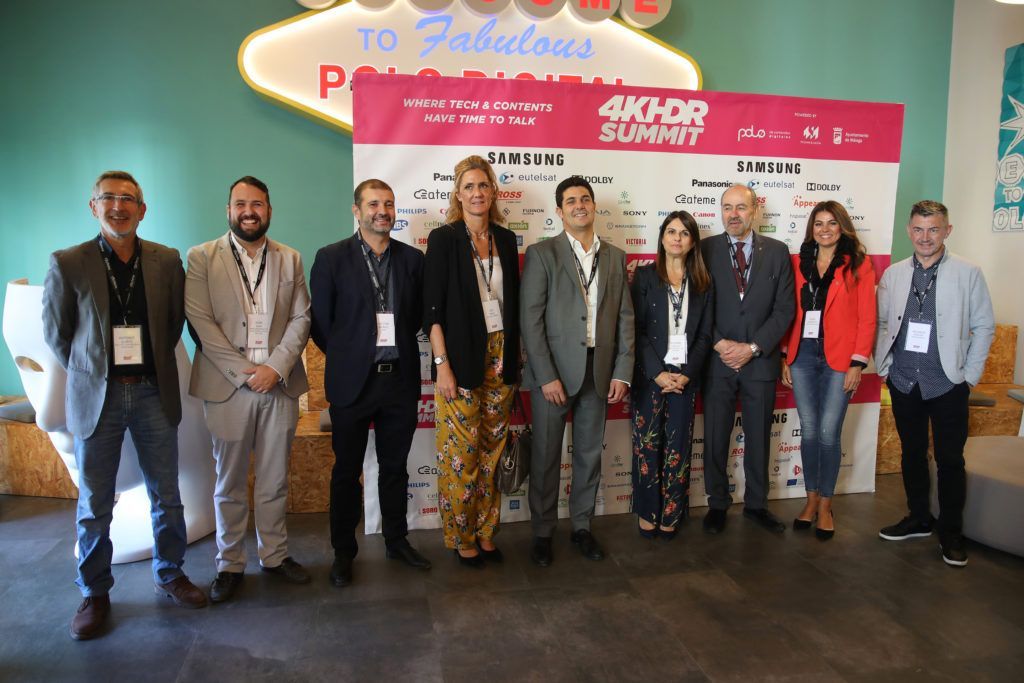 THE BEST ANALYSTS AND 4K AND 8K CONTENT IN THE OPENING SESSION
Ricardo Medina, CEO of Medina Media Events, and Susana Carillo, Councillor of Innovation and Urban Digitalization of the Malaga City Council, inaugurated yesterday together with Antonio Quirós, director of the Digital Content Pole, and other personalities, the fifth edition of the 4K-HDR Summit of Malaga.
After the inauguration, María Rua, international analyst at IHS Markit, based in London, was the first to speak and explained her vision of the global evolution of 4K and 8K: "The 4K is important for consumers when buying a television, but not many providers offer 4K content, there is no possibility of appreciating the televisions you buy".
Nacho Monge, TV&AV Marketing Director Iberia of the Korean multinational Samsung was the second speaker to speak, to expose the first 8K HDR10+ sports content produced in Spain with Repsol Honda Moto GP Team and the evolution that Samsung's QLED 8K televisions will undergo in the coming years.
Mohammed Hamza, principal analyst of the American S&P Global, returned to the 4K-HDR Summit to present, on this occasion, an exclusive report on 4K technology, which is revolutionising the smartphone market. For Hamza, "4K is not the future, but the present".
Michel Chabrol, Senior Vice President New TV Formats of Eutelsat (France) focused on the role that the satellite is playing in the implementation of 4K and 8K worldwide: "there are 190 UHD channels worldwide, 86 of them in Europe (31 satellite channels, 47 via IPTV and 1 in DTT)".
On the other hand, the Canadian Ross Video, represented by Néstor Amaya, Vice President of Infrastructure, explained the pragmatic infrastructure of video signal retransmission using 12G-SDI and IP for 4K UHD production.
According to Amaya, by focusing on technology we forget the ultimate goal, which in the case of 4K is to make a big impact on viewers. The UHD 4K production works in IP and 12G-SDI, but IP has a great advantage: the power of scale. The size of a network that can be achieved with IP greatly exceeds the size of SDI, this, above all, is very positive in 4K production.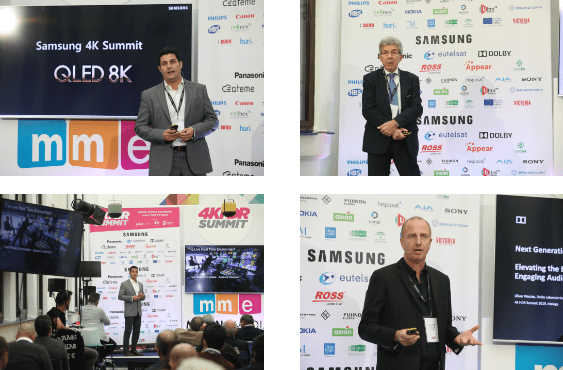 Olivier Watzke, Product Manager at Product Management Group of the American company Dolby, presented the latest generation audio experience that Dolby has been developing over the last few years.
Dolby has created an exciting surround sound experience for listeners on everything from movie screens to televisions to mobile devices. This 3D surround sound experience has been present in 5,000 cinemas around the world for 7 years.
After the midday cocktail offered by Axión, where the 250 exclusive attendees at the 4K-HDR Summit in Malaga were able to enjoy local products thanks to the collaboration of Diputación de Málaga and Sabor a Málaga "El Sabor que nos une" while networking, Nicolás Lecocq, Senior Manager Video Business of Movistar+ presented the second season of the acclaimed television series "La Peste", produced in 4K.
Pablo Alemán and Juan Luis Santos, Managing Director and Post-production Manager of Wild Stories, presented exceptional content from independent producers, telling spectacular stories of nature, wildlife, travel, human interest and lifestyle.
On the other hand, Amos Rozenberg, CEO of the French production company Paramax Films, showed the retransmissions of Jazz festivals in 4K and 8K that they carry out from their production company.
Prashant Chothani, CEO of TravelXP India, unveiled "new limits for 4K HDR and 8K HDR operators".
The first day ended with an opening party sponsored by Tedial, where attendees enjoyed Cerveza Victoria, a beer with all the flavor and character of the city of Malaga.