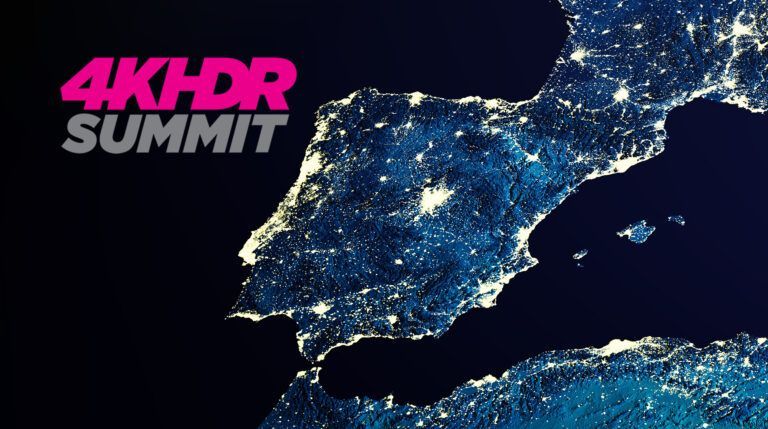 THIS YEAR THE 4K-HDR SUMMIT WILL HAVE MORE SPANISH ACCENT THAN EVER BEFORE
19/10/2021 | 4k Spain
---
Since its first edition in 2015, the 4K-HDR Summit has established itself as the leading international content and technology meeting on 4K and 8K, and has placed Spain on the world map of Ultra High Definition (UHD), but it will be at its seventh edition in Malaga from 15 to 19 November when it will have a strong Spanish accent in its very own right.
The creation of the UHD Spain association (www.uhdspain.com), which brings Spain up to the level of similar associations in Germany, France, Italy, and Great Britain, has been a significant event on the international audiovisual scene, especially due to the level of the companies that make up the association.
Media groups such as Radio Televisión Española (RTVE), AtresMedia, and the UTECA private broadcasters, as well as the regional broadcasters grouped in FORTA, with TV3 at the forefront, have been working together for months to promote this advance in image and sound quality in Spain, which Ultra High Definition (UHD) represents.
"Spain will be the protagonist country this year at the 4KHDR Summit," says Ricardo Medina, CEO of Medina Media Events, the company that organized this meeting in which hundreds of professionals, experts, and companies from more than 40 leading countries in the audiovisual industry from Asia, America and Europe take part every year.
"We are closing the agenda, which we will announce on 1 November, but almost all the sponsors and main speakers we have invited have already confirmed for the past few months their interest in remaining part of an event in which they feel very comfortable and in which they value the quality of the speakers, presentations, participants and our platform," says Medina.
In the 2020 edition, a total of 2,037 users visited Medina Media Events' 4K HDR Virtual platform. These users came from 44 countries: Australia, Austria, Andorra, Andorra, Belgium, Bulgaria, Brazil, Canada, Chile, China, Colombia, Croatia, Finland, France, Germany, India, Indonesia, Iran, Ireland, Israel, Italy, Japan, Korea, Malaysia, Mexico, Netherlands, Norway, Peru, Pakistan, Portugal, Poland, Romania, Russia, Slovakia, Spain, Singapore, Sweden, Switzerland, Thailand, Turkey, Ukraine, United Arab Emirates, United Kingdom, United States, and Vietnam.
The main profiles were CEOs, CIOs, CTOs, and directors of Innovation, Business, Product, Strategy, Marketing, as well as producers, filmmakers, engineers, consultants, and researchers.
The 4K-HDR Summit has been growing year by year, and from the two days, it began in 2015 it has grown to five days this year to accommodate all the companies and sponsors who want to present their progress and innovations in an increasingly innovative industry.