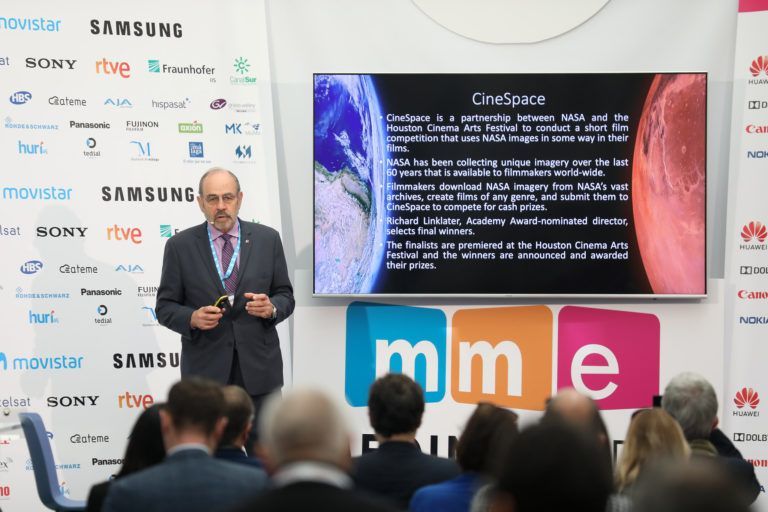 THE 4K AND 8K EXPERIENCES OF THE NASA ON BOARD THE INTERNATIONAL SPACE STATION, AT THE 4K-HDR SUMMIT
18/10/2019 | News 4K
---
The processing of Ultra High Definition images of NASA's International Space Station (ISS) will be a topic addressed in the fifth edition of the 4K-HDR Summit, the main international event on this technology, to be held from November 6 to 8 at the National Pole of Digital Content in Malaga.
The 4K-HDR Summit brings together every year the most prestigious engineers and content producers from around the world in an exclusive environment where only 250 exclusives attendees can share projects and experiences and networking at the highest level, in addition to knowing the latest developments in 4K, 8K and HDR in the Demo Area and Workshops of this world summit.
After the great expectation caused among the audience and the media in the last edition, Carlos Fontanot, Imagery Manager of the International Space Station (ISS), will return from the Johnson Space Center in Houston to the Digital Content Pole to talk about the experiences of 4K and 8K of NASA aboard the International Space Station, the importance of digital images in space exploration, VR, the commercialization of low Earth orbit (LEO) and future plans.
"We have a 24-hour channel that transmits images recorded in 4K to which we especially contribute from NASA, since we have cameras in both the ISS and the Jonhson Space Center", Fontanot explained during the 2018 4K-HDR Summit to the media.
Fontanot began studying engineering in his native Mexico, but soon discovered that images were his thing and specialized in communications and television production. For the past 29 years, he has been working at the Johnson Space Center in the administration, cataloguing and distribution of ISS images.
The 4K-HDR Summit offers a unique opportunity to attend keynotes, panel sessions, workshops and demos, for three days, in which the leading exponents of technology and content of Ultra High Definition share experiences and make first level networking 100 meters from one of the best beaches of the Costa del Sol in the second week of November.
To attend the 4K-HDR Summit and enjoy all that this world summit on 4K and HDR has to offer, just register here.
In addition, attendees to the 4K-HDR Summit will be able to get to know free demonstrations and workshops, expressing all their creative and professional possibilities and sharing in real time their impressions with other attendees. Register to visit the Demo Area and Workshops for free here.