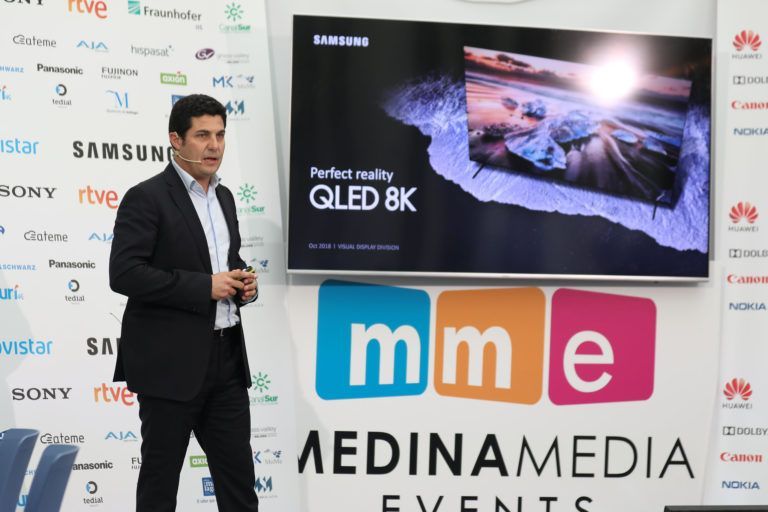 SAMSUNG WILL EXHIBIT AT THE 4K-HDR SUMMIT IN MALAGA THE FIRST SPORTS CONTENT 8K HDR10+ PRODUCED IN SPAIN
29/10/2019 | News 4K
---
Samsung, main sponsor of the 4K-HDR Summit, will once again participate in the fifth edition of this consolidated summit as one of the main meetings on 4K, 8K and HDR around the world, where biggest professionals, companies and multinationals from the technology sector meet on the Costa del Sol every year in an exclusive, non-growing environment to discuss the latest developments.
Samsung, together with the Repsol Honda MotoGP Team has already produced 8K HDR10+ content in Spain which will be exhibited at the 4K-HDR Summit. In addition, it also announced this year that it will support the playback of HDR10+ content in 8K, in collaboration with the main European streaming services.
Nacho Monge, TV&AV Marketing Director Iberia of Samsung, will be in charge of presenting the amazing features of the 8K HDR10+ on the first day of the 4K-HDR Summit, next November 6, at the National Digital Content Pole in Malaga.
The HDR10+ technology optimises brightness and maximises contrast by making deeper blacks and brighter whites visible. This feature is available on all UHD TV models and 2019 8K models, including Samsung's QLED line of TVs.
Samsung has positioned itself as an industry leader in HDR (High Dynamic Range). CHILI, The Explorers and MEGOGO, three European OTT (Over-the-top) service providers, will adopt 8K HDR10+ technology.
With the first QLED 8K television, presented at the 4K-HDR Summit 2018, Samsung has reaffirmed its commitment to Quantum Dot nanotechnology, which can display up to a billion colors and offers up to 16 times higher resolution than FullHD technology, until now the most used panel in this market. Samsung is the only company currently offering 8K Artificial Intelligence technology in the Spanish market.
In addition, the 8K processor with Artificial Intelligence is an exclusive technology that allows improving both the quality of the image and the sound, regardless of the quality or format of the original source. This means providing the user with more than 250 algorithms designed to recognize the type of image (SD, HD, FullHD or 4K) thus achieving a magnificent scaling to generate a content practically in 8K.
If you want to see first hand the most advanced technology on the market, don't miss Nacho Monge's keynote on November 6 and Samsung's 8K TVs at the 4K-HDR Summit Demo Area on November 6, 7 and 8.