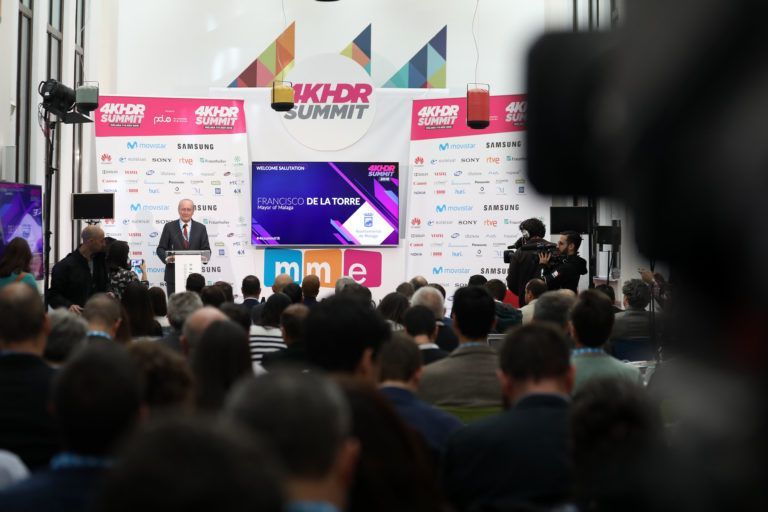 8K or 4K? THIS IS THE QUESTION…
05/11/2019 | News 4K
---
The 4KSummit of Malaga celebrates from tomorrow its fifth edition with the world's leading experts on content and technology of Ultra High Definition (UHD)
The world's leading experts in Ultra High Definition (UHD) meet for three days at the National Pole of Digital Content in Malaga to talk about the 4K and 8K, with the aim of sharing and analyzing the progress of this new technology, called to improve the quality of the images we receive on televisions in our homes or on our mobile phones.
Tomorrow starts the 4K-HDR Summit, an event organized by Medina Media Events, which annually attracts to the capital of the Costa del Sol the main experts, multinationals and leading companies of the audiovisual sector.
The main international summit on 4K and 8K technology, which will take place at the Digital Content Pole in Malaga, includes 24 keynotes and 4 panel sessions in which reports, proposals and visions on 4K and 8K technology will be offered thanks to great experts, companies and multinationals from all over the world.
There are 16 countries participating in this edition, represented by speakers, sponsors and attendees from the United States, United Kingdom, Germany, Colombia, India, Korea, Japan, Holland, Canada, Norway, Mexico, Finland, Italy, Turkey, Switzerland and Spain.
On November 6, 7 and 8, attendees to the 4K-HDR Summit will be able to meet in person more than a dozen demos in the demo area (free access), where companies such as Samsung, Nokia, ATEME, Philips, Rohde & Schwarz, Appear, among others, will present their latest developments.
Thus, attendees to the Demo Area will be able to see for the first time in Spain spectacular 4K and 8K images taken from NASA's International Space Station (ISS), as well as enjoy the new QLED 8K televisions from Samsung, where they will be able to see incredible images about major sporting events, nature, travel, culture, and so on.
Within the framework of this international summit will also take place the awards ceremony of the Short Film Festival "Málaga 4K Fest", on Friday 8 November at the Cine Albéniz from 7:00 p.m (free access until full capacity) and the presentation of the Association UHD Spain (non-profit association of which may be part companies and professionals interested in the development of Ultra High Definition in Spain).