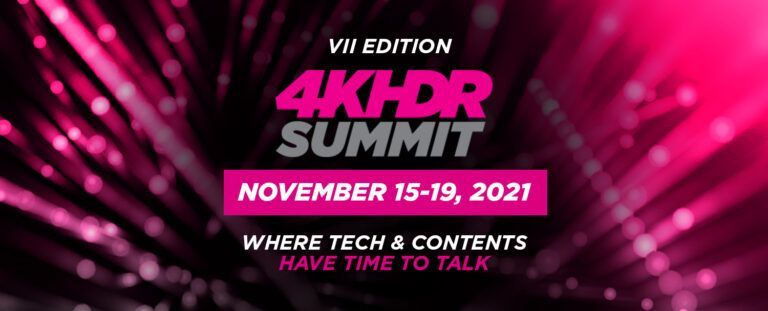 4K SUMMIT RETURNS TO MALAGA IN NOVEMBER IN A HYBRID FORMAT AND EXTENDED TO 5 DAYS
08/09/2021 | 4k Spain
---
Unstoppable technological and consumer evolution of the audiovisual industry in 2021 towards 4K and 8K would be, once again, the main international theme at the seventh edition of the 4K Summit, from 15th to 19th of November in a hybrid format. The first day will consist of a face-to-face and networking event at 'Polo Nacional de Contenidos Digitales', located in Malaga.
The face-to-face 4K Summit opening will take place on Monday, November 15th, and will welcome the new members and collaborators of the UHD SPAIN Association, which was created last January to promote the development of Ultra-High Definition (UHD) in Spain.
 The official agenda for the seventh edition of the 4K Summit will be announced one month before the event. As a preview, in addition to the news and innovations of UHD in Spain among the topics to be discussed, the Tokyo Olympic Games will be one of the main issues in this year's program. The Olympics broadcast has been the platform used to carry out numerous pioneering works in the industry where many manufacturers and companies have participated in creating and producing content.
The different technological solutions that have been successfully applied in the last 12 months will be showcased at the 4K Summit by leading audiovisual multinationals such as Rohde & Schwarz, Hispasat, Eutelsat, Fraunhofer, Canon, Ateme, Vestel, Synamedia, etc.
4K IN SPAIN: A REALITY
4K technology has been introduced into Spain gradually. As an example of this matter, it's interesting to mention that Movistar+ broadcasts the Tokyo 2020 Olympic Games via the Eurosports4K channel. This platform also regularly broadcasts two soccer matches a week from La Liga Santander (Real Madrid and Barça), as well as Formula 1 events and Champions League matches during the week.
Moreover,  owing to Innovations in optical fiber technology -Spain has a fiber-to-the-home deployment that exceeds Germany, the UK, Italy, and France all combined-, UHD content is already available online. 
In July, Vodafone launched an all-in-one 4K decoder with Dolby Atmos to film and series content, mainly from HBO, Amazon Prime Video, Filmin, AtresMedia, YouTube, and National Geographic… For its part, Orange has also launched its 4K decoder free of charge for its customers and offers different 4K channels: Orange Series (some content), Odisea, Canal Cocina, Fashion TV UHD, Festival 4K, All Flamenco 4K, La Liga UHD, and Liga de Campeones UHD.
A few years ago, NETFLIX gave a big boost to industrial production in Ultra High Definition (UHD) by demanding that all its original productions be made in 4K quality. This decision was followed by the rest of the platforms, so it became the "standard" for the quality of fiction series worldwide.
4K HDR SUMMIT CONSOLIDATION
The 4K Summit will also offer reports from the consultancy firm OMDIA, showing the present and future evolution of the market, which has experienced a major boost in the consumption of audiovisual content since 2020, as a result of the COVID19 pandemic.
Medina Media Events has expanded the agenda of this year's edition to five days so that all projects related to UHD worldwide have the highest visibility possible and are widely shared by the technology community.
Since 2015, the 4K Summit hasn't failed to keep its appointment with the top engIneers and top content producers, who accepted the invitation from Medina Media Events to meet once a year and share the advances and experiences of each one. The aim of this summit since its foundation has been to improve the user experience with Ultra-High Definition (UHD) content and receiving devices.
UHD SPAIN ASSOCIATION
Last year's edition was held virtually over three days. In 2021, the agenda will take on a hybrid format and be extended to five days. The first day will be celebrated in Malaga and the last day of the summit will be dedicated to the UHD SPAIN Association, its work, and the presentation of the first White Book on UHD in Spain.
UHD SPAIN is made up of 30 members, leaders in UHD technology and content: ADM, AMETIC, ATEME, ATRESMEDIA, AXION, CANON, CELLNEX, DOLBY, EGATEL, FECOTEL, FENITEL, FRAUNHOFER, GSERTEL, HENNEO, HISPASAT, HURÍ, LAVINIA, MEDIAPRO, MEDINA MEDIA, ROHDE & SCHWARZ, RTVE, SAPEC, SECUOYA, TEDIAL, TELECOM CLM, TELEVÉS, TREDESS, UNIVERSIDAD POLITÉCNICA DE MADRID, UTECA and VESTEL.
Several television channels, production companies, associations, and professionals have already communicated internally their intention to join UHD SPAIN as partners or collaborators. A new membership formal ceremony will take place at 'Polo Nacional de Contenidos Digitales', in Malaga. 
Since June, UHD SPAIN has been broadcasting a test channel with 4K content (SDR and HDR) on DTT that reaches 38 provincial capitals, with the idea that consumers who already have UHD receivers can enjoy 4K content free of charge. In addition, the channel can be followed via the Internet, satellite (Hispasat), and the "red button" (hybrid television).